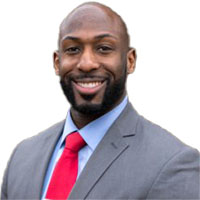 Quincy Bruce
Loan Consultant
NMLS #1563486
Let's Get Started
Begin your digital application
Let Quincy Bruce help you achieve the dream of home ownership today. Quincy has been a mortgage loan professional for more than 12 years with additional background in banking and financial services. Quincy provides his clients with the knowledge and experience necessary to help them make informed decisions throughout the loan process, find the terms that are right for their budget, and make sure all the legalities are competently handled so that all closings go smoothly.
Whether you're a first-time home buyer, trading up, downsizing, adding to your real estate portfolio, or simply wishing for a change, Quincy can help you before you ever make an offer on a property. Quincy and his team have a vast amount of experience in leveraging an arsenal of programs including Conventional, VA, FHA, USDA rural property, and VHDA loans. Quincy can sit down with you and look over your budget, income, savings, and long-term financial goals to help you get a clear picture of what type and amount of loan is realistic. There are many factors to consider when getting a home loan; interest rates are only one element of the complete package. Quincy will help you consider all your options so you can concentrate on making the best decision for your needs.
The financial aspects of home buying can be stressful and overwhelming—but they don't have to be, not with a trained and caring professional like Quincy Bruce in your corner.
On a personal note, Quincy is born and raised in the Greater Washington D.C. Area. When he's not helping to make the dream of home ownership a reality, he's volunteering his to help the less fortunate through his church and coaching youth football. Quincy is a son of a chef and brother to a personal trainer so don't be surprised to run into him at a gym or restaurant.
As always thank you for letting Quincy and the Day 1 Mortgage team help with your home loan needs, and we look forward to speaking with you soon.
Let's Get Started
Begin your digital application
---